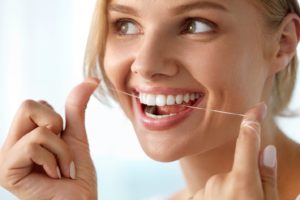 Often, we see patients who are almost religious about brushing their teeth — but they're not so enthusiastic about flossing. They might think that brushing is enough to keep their mouth clean, or maybe they feel that flossing is tedious or even painful. Is it okay to leave this activity out of your daily oral hygiene routine? Well, not really. Let's talk about why flossing is essential for anyone who wants to maintain a healthy, fresh smile.
Floss Isn't Just for Removing Food
After you eat barbecue or some fresh Ohio sweet corn, you might reach for some floss to get those annoying bits of food out of your teeth. But if the only time you floss is when you can actually feel substances stuck between your pearly whites, you're risking major damage to your smile.
Throughout the day, bacteria in your mouth interact with the foods you eat and create plaque, which eventually hardens into tartar and leads to cavities. When you brush your teeth, you're cleaning away plaque from about 60 percent of their exposed surfaces. The other 40 percent is between the teeth, in those tight spaces that your toothbrush has no way to reach.
The Consequences of Not Flossing
Not only does neglecting flossing increase your risk of cavities, but it can have aesthetic consequences as well. Just like you don't want to be the person with food between their teeth, you also don't want to be the person whose teeth are yellow around the edges. That's right — plaque between your teeth can contribute to discoloration.
Not flossing can also increase your risk of gum disease. If plaque sneaks into the periodontal (gum) tissue, your gums can easily become inflamed. Without proper care, gum disease can lead to persistent bad breath, bleeding and painful gums, and even tooth loss.
The risks of not flossing are especially serious for individuals with crooked teeth. When teeth are not properly aligned, it becomes even more difficult for your toothbrush to thoroughly clean them. Flossing is often the only way to achieve a truly clean mouth.
Become a Habitual Flosser
Despite the benefits of flossing, you still might hesitate to incorporate it into your daily routine. Let's touch on some of the reasons why so many people don't thoroughly clean between their teeth each day:
Discomfort. Plaque between the teeth can cause a bit of bleeding when you first start flossing. This should stop after a few days.
Time. Flossing only takes about 2 – 3 minutes. Try to do it at night so you don't feel rushed.
Forgetfulness. It's tough to get into a new habit! Place your floss somewhere it's easy to see so you're more likely to remember to use it.
Flossing is an essential part of an effective oral hygiene routine. To prevent cavities, bad breath, and gum disease, be sure to do it every day!
About the Author
Dr. Jonah Staten is your general and preventive dentist in Etna. He enjoys educating his patients on how they can take good care of their teeth at home, so if you have questions about why or how you should floss, feel free to come and pick his brain! Contact our office at 740-927-7645 to schedule your next checkup.