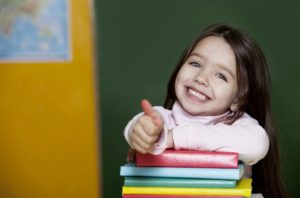 We hope you had a great summer! Of course, the sunniest season of the year isn't over quite yet, but it is time to start thinking about autumn. You'll be busy as you prepare to send the kids back to class and settle into the routine that will carry you through the next several months. In all the chaos of this time of year, it would be easy to let dental checkups for your children slip your mind — but we're here to remind you why it's so important to include a visit to your dentist on your back to school checklist.
The Importance of Preventive Care
Everyone, children and adults, should visit their family dentist at least twice a year for a checkup. Doing so is especially important for children because their mouths are still developing. If you're diligent about getting their little one's teeth examined regularly, you give your dentist the opportunity to spot developmental problems before these issues lead to long-term consequences for your child.
Of course, preventive care is still vital even if your child's mouth is developing normally. Routine checkups and cleanings accomplish quite a bit:
The dentist and hygienist can offer some friendly reminders to you and your child about how to prevent cavities and gum disease.
Regular dental appointments help your child adopt a positive attitude about oral healthcare that could benefit them for their rest of their life.
A thorough professional cleaning removes plaque and tartar from the teeth that might have accumulated in hard-to-reach places.
Your dentist may suggest that your child receives sealants or topical fluoride to strengthen their smile and protect it against decay.
Back to School Season Is the Perfect Time for a Checkup
We love to chat with kids when they come in for their back to school checkups; it's fun to see how excited they are about seeing all their friends and showing off their new shoes. But this time of year isn't just an opportunity for us to get a good dose of childhood cuteness. It's a great time for your little one to get a checkup because:
It might be a challenge for your family to find time to visit the dentist after school starts.
Dental insurance usually operates on a calendar year basis. If you become aware that your child needs a bit of restorative work, you can get it taken care of before your benefits expire at the end of December.
A clean and fresh mouth can give your child an extra boost of confidence as they head back to the classroom and mingle with their peers.
Is a visit to the dentist on your back to school checkup? We hope it is!
About the Author
Dr. Jonah Staten earned his dental degree from The Ohio State University School of Dentistry. He loves to work with patients of all ages, and he has a special gift for making patients feel comfortable under his care. If you would like him to perform a checkup for your child as the new school year gets underway, contact Old School Dental at 740-927-7645.