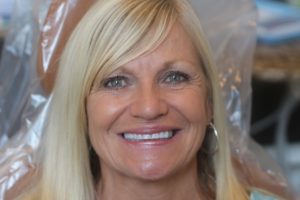 When you're getting ready to visit a new dentist, you might be a little nervous. You might ask yourself questions like, "Do I really need to keep my appointment? What if the dentist doesn't listen to my concerns? What if the experience is painful?" Such concerns are natural, but if you're careful about who you choose as your dental care professional, you shouldn't have a thing to worry about!
At Old School Dental, our goal is to always make our patients feel like there is nowhere else they would rather go to for their dental care.  Here is a brief look at what you can expect during your first appointment in our office.
People-First Dentistry
Too many dentists treat their patients like another item to check off on their to-do list. Old School Dental is different! When you first come into our office, you will be greeted by name.    Dr. Staten and his team will take the time to discuss your oral health concerns, your budget, and your smile goals. Our front office staff will help you understand and maximize your insurance benefits.
After talking with you and understanding your specific needs, Dr. Staten and his staff will take a look at your teeth and gums, and perform any necessary panoramic X-rays.  Using the 42" monitors in each operatory, Dr. Staten will review your X-rays with you and discuss any dental concerns in a way that is easy to understand.  He was an elementary school teacher before becoming a dentist, so he is great at educating his patients about their dental needs.
Dr. Staten is passionate about people-first dentistry, so he never rushes patients through their appointments. He will take the time to answer all of your questions and thoroughly explain any treatment he recommends. At your first visit, he will even give you his personal cell phone number so you can reach him any time you have a concern about your oral health.
Old School Doesn't Mean Outdated
The motto of the practice is "Where Modern Technology Meets Old School Values."  The practice is located in the newly renovated old Etna schoolhouse, built in 1877, but that's only part of the logic behind our name. The practice is also named Old School Dental because we take great pride in bringing back the old time values of treating everyone with love, providing top-quality service and giving our patients the time and personal attention that so often seems lost in our modern world.  It was the way our grandparents treated everyone, and we think they had it right. However, that doesn't mean that the techniques and technology we use to care for your teeth are old or outdated.  Dr. Staten works hard to keep up with the latest advances in his field so he can always provide his patients with the best treatment available. He also employs the most modern technology available, such as intraoral cameras, to help you gain a better understanding of your oral health.
You should never be nervous about visiting your family dentist, which is why at Old School Dental, we go out of our way to make you feel like family.  At the end of your appointment, you are treated to warm fresh baked cookies or an apple if you prefer.  We look forward to meeting you and becoming your family dentist!
More About Dr. Staten
Dr. Jonah Staten, a graduate of The Ohio State University School of Dentistry, has earned a reputation for being a skilled, gentle, and lighthearted dental professional.  He enjoys interacting with his patients and forging long-term relationships with them.  Be sure to check out Facebook to watch videos of Dr. Staten and see what patients are saying about their appointments.  If you would like to meet Dr. Staten and the rest of his team, contact the office at 740-927-7645.